Ketchikan, Alaska
Where's that? Never heard of it before...
Sure you have! Bare Boat Alaska is located in Ketchikan, Alaska. Most likely, you've probably heard of the 'Bridge to Nowhere'... Yep, that's us!
Our Town
Less than a 2-hour flight from Seattle, WA, Ketchikan is the southernmost city in Alaska and has a population of less than 8500. It is located on the west side of Revillagigedo Island and in spite of the fact that it rains here a lot, over a million visitors will pass through Ketchikan in 2019 as it is one of the stops for the massive cruise ship industry.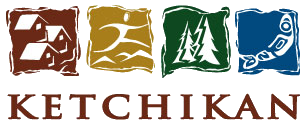 Misty Fiords National Monument and Wilderness Area
Formed by retreating glaciers over 17,000 years ago, this area was designated a National Monument in 1978. If you are looking to see a remote area of Alaska, this is it! Just one question: When was the last time you saw a sheer rock wall, as high as two Empire State buildings stacked one on top of another, jutting near vertical out of the water?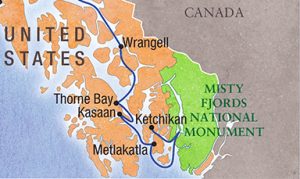 Tongass National Forest
At nearly 17 million acres, the Tongass is the United States' largest national forest and supports an abundance of fish and wildlife, including seals, porpoises, and humpback and killer whales. There are over a 1000 islands that make up the Tongass and the innumerable coves and bays make this area a boater's delight!